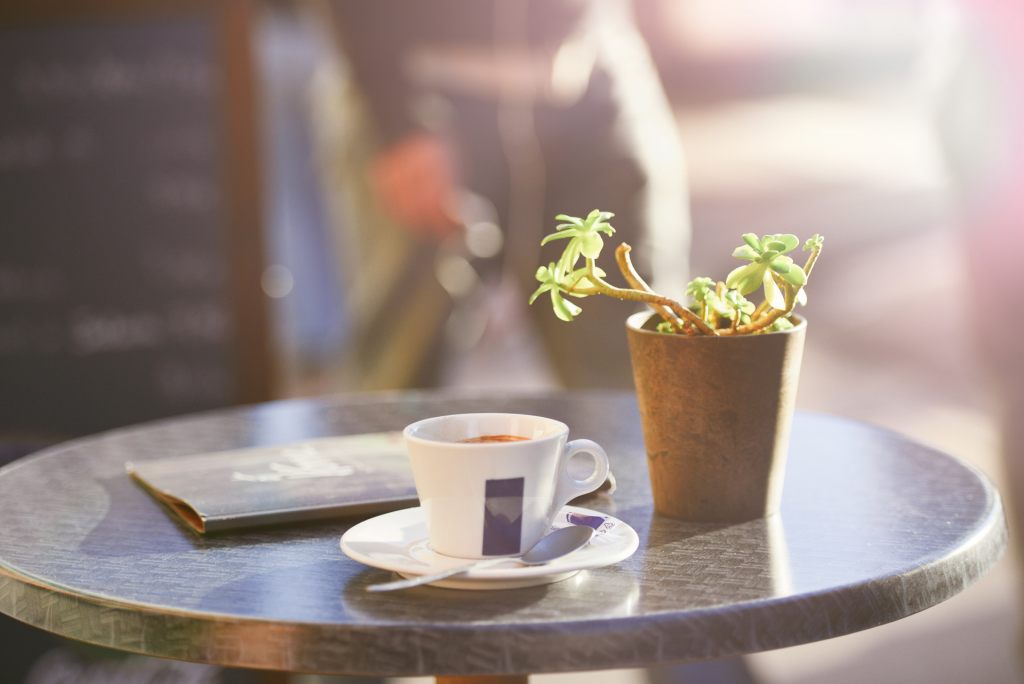 I don't know about you, but I was a little surprised to see the Reserve Bank drop interest rates in October. I think many people were expecting an adjustment down in November. Now the big question is, what is this really telling us? If you have the answer, please email and let me know.
As we appear to move from one economic crisis globally to another, North Shore real estate seems to just roll on and now with turnover in the over $1.8M market, there shouldn't be anything stopping people listing their property between now and Christmas. I think if you wait for the turmoil overseas to stop, you could be waiting a long time.
Now interest rates, if passed on by the banks, have just made it that bit more attractive to buy real estate within five, ten, fifteen to twenty minutes from the city.
This week I'd like to turn your attention to a special property in the area that we've all passed on Mowbray Road a thousand times, called "Hilton" 309-315 Mowbray Road. I'm often asked what the history of this home is and whether in fact it's haunted and who lives there?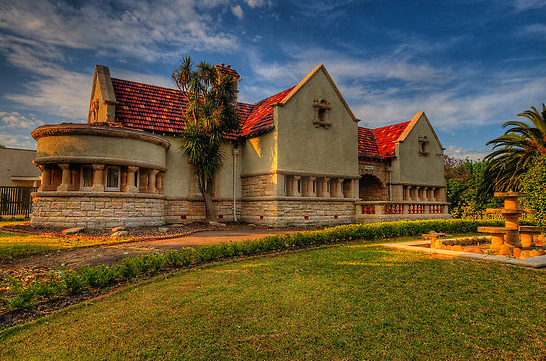 I have been through the home on a number of occasions and it is currently for sale though Nick Separovich from Shead Property, Chatswood.
The history is as follows;
The "Hilton" was an extremely interesting and lavish building in an unusual 'modern' style for its time. Originally called "Broxbourne" this heritage-listed, federation home was built for W H Hoskins, a wealthy industrialist, in 1902. It was designed in a distinctive Romanesque Revival style by Albert Borchard, an acclaimed architect of that era. Upon Hoskins death in 1906, the property was occupied and later purchased by the Reverend Alexander McKinley. McKinley occupied the house until 1924 when he sold it to Mrs Elfie Symington for 2350 pounds. The house has stylistic and historic links with Seven Gables (251 Mowbray Road), also said to have been designed by Albert Borchard and built about the same time. The "Broxbourne" was later referred to as the "Hilton" which was apparently named after the son of a more recent owner. In 1985, a Permanent Conservation Order was placed upon the Hilton.
The Hilton is a grandly proportioned landmark commanding a huge block of land (2160sqm) with three street frontages. Showcasing a single story arts and crafts stone villa with attic rooms, the house is a rectangular shape with two prominent side bays. It features a rough cast rendered surface with stone trims, a base of squared rusticated random stone, massive truncated stone pilasters between windows, broken pediment motifs, a low round turreted bay in the South Western corner, gabled parapets and a large square chimney tower with stone details. The house is enhanced by a gravel drive, a low stone fence with wrought iron gates and several Canary Island palms. The fountain, tennis court, squash court and swimming pool all have been added later. Internally a massive dressed stone fireplace designed around a keystone with elaborate overmantels, some Wunderlich ceiling and some press-carved joinery features. A large garage at the corner of Nea and Young Street is attached to the house. Below is an article from the North Shore Times stating the property's conservation order.
The home has many possibilities and can be purchased for over $4,200,000. Thank you to Shirley Ramrakha, Acting Local Studies Librarian from Willoughby City Library, for providing us with this information.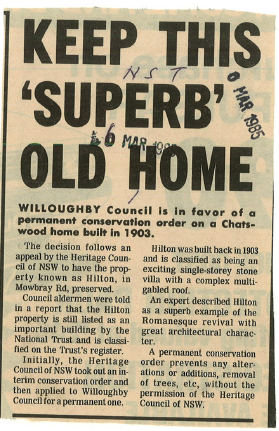 Your feedback is always welcome on james@forsyth.com.au.
Thank you.