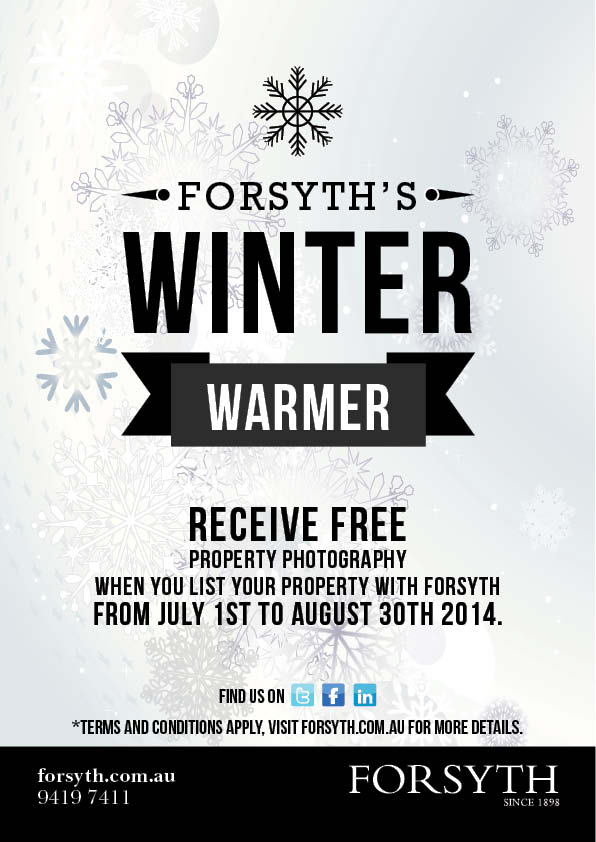 FORSYTH FREE PROPERTY PHOTOGRAPHY TERMS AND CONDITIONS:
1. This promotion commences at 12.00am EST on Tuesday 1st July 2014 and closes at 11.59 pm EST on Saturday 30th August 2014 ('Promotional Period'). Taking part in this constitutes acceptance of these terms and conditions.
2. Forsyth Real Estate ("The Promoter") of the competition is Forsyth Real Estate ABN 18 001 607 610, 236 Penshurst Street, Willoughby NSW 2068.
3. Information on eligibility form part of these Terms and Conditions.
4. Entry is open to Sydney residents 18 years of age and over and who own residential property in Sydney ("Eligible Entrants").
5. Employees of the promoter (and their immediate families) are eligible for this offer.
6. To be eligible for free property photography "Eligible Entrants" must:
1. Contact Forsyth Real Estate via phone, email or website
2. Obtain a property appraisal from a Forsyth area Specialist
3. List their property with Forsyth Real Estate between July 1st 2014 and August 30th 2014 and receive 5X high and low resolution property photos to the value of $195.
4. Understand that by entering this competition you are automatically accepting these terms and conditions.
7. If for any reason whatsoever beyond the reasonable control of the Promoter, the promotion is not capable of being conducted as reasonably anticipated, the Promoter reserves the right, in its sole discretion, unless to do so would be prohibited by law, (subject to any written directions from a regulatory authority), to cancel, suspend, modify, terminate or cancel the promotion.
8. The Promoter reserves the right to verify the validity of entrants (including an entrant's identity and age and address) and reserves the right to disqualify any entrant for tampering with the entry process, or for submitting an entry that is not in accordance with these Terms and Conditions, or if the entrant is engaged in any unlawful or other improper misconduct calculated to jeopardise the fair and proper conduct of the promotion. The Promoter's legal rights to recover damages or other compensation from such an offender are reserved. Failure by the Promoter to enforce any of its rights at any stage does not constitute a waiver of these rights.
9. Forsyth Real Estate accept no responsibility for loss, damage, accident, death or injury resulting from the promotion.
10. Forsyth Real Estate accepts no responsibility for any tax implications that may arise from the free property photography.